32se
Reminder, follow 8080 for notifications on updates !
Let's keep Amiga alive and prosper!
Most important is to have fun!
Your payment/tip is a contribution for my Amiga projects ;)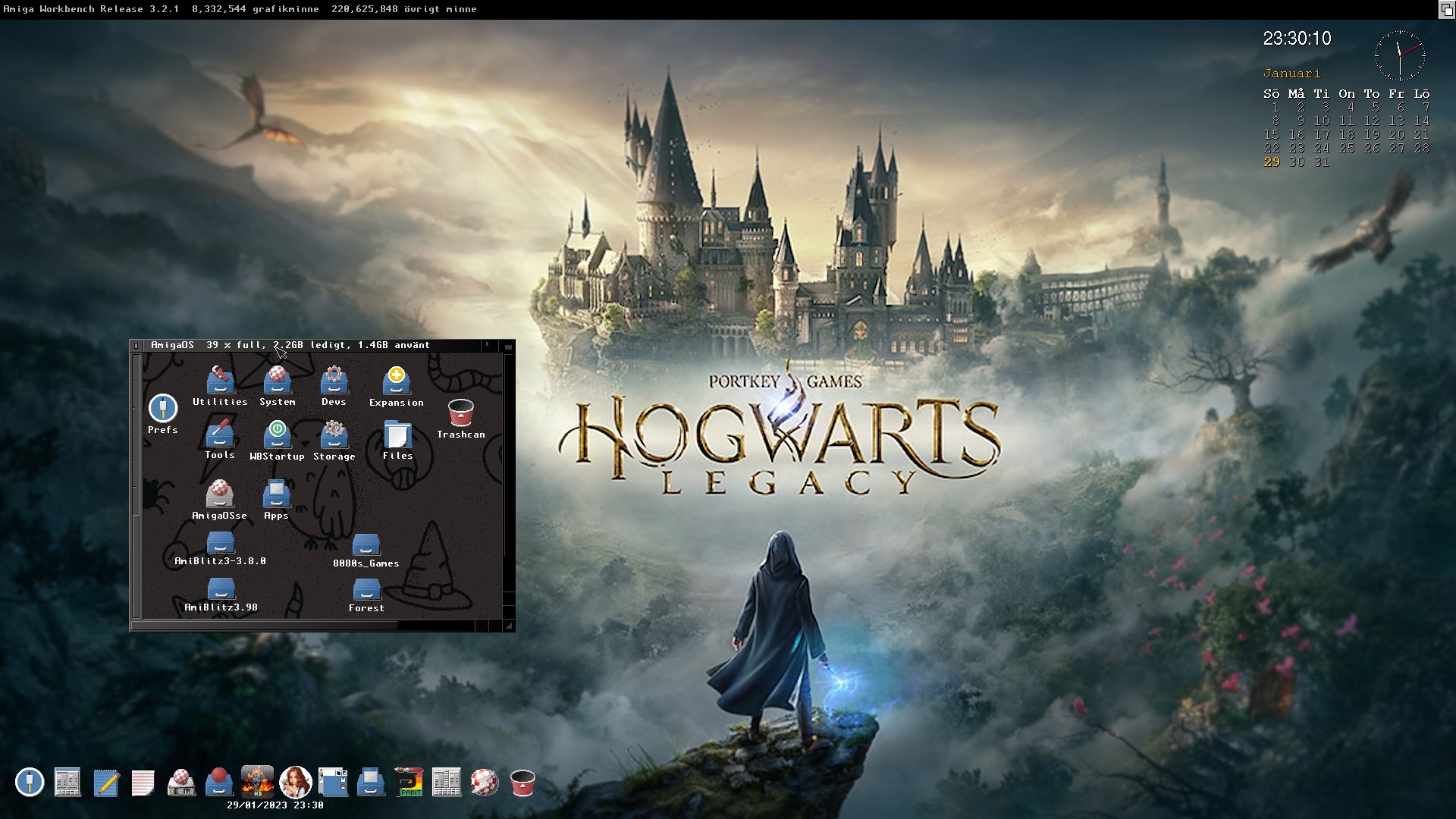 v6.73 release and above theme 1th February !!!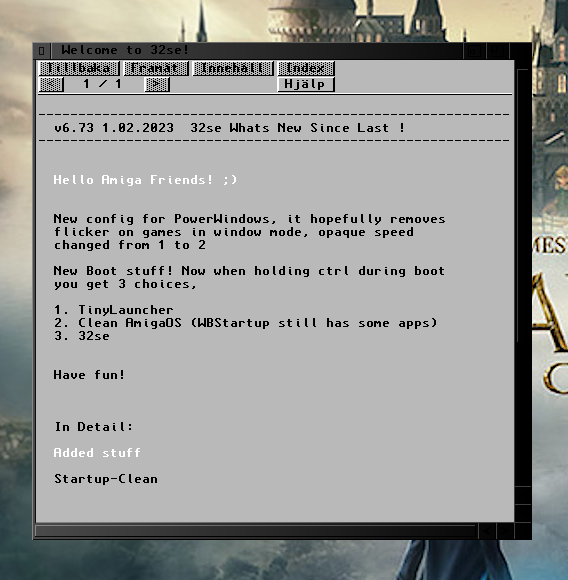 This is a upgrade for AmigaOS 3.2.x, I think it makes it more useful and fun, I'm trying to avoid apps that doesn't work or prone to crash, more is not always better ;-)
Most function runs by script ARexx, AmigaDOS on demand almost no background tasks added to keep it fast and you have the option to disable most if not all.
If you give it time and get the way 32se works you notice this is not bloatware, you are in control and can pretty much strip it down to clean OS. The main driver here is a theme controls almost all, just activate a clean theme and you almost have a clean OS, you can switch between "bloatware OS" to "minimal OS" in seconds ;) Yes you can have all the fun!
DEFAULT PASSWORD: 0000
• In Top Bar menu there are many options added to make life easier, Theme editor opens new menu option to create/edit a theme, when done end theme editor to close menu.
• Amiga Guide instructions, HTML links on installed stuff. On fresh 32se install & first boot a What's new on this version in Amiga Guide pops up.
• Included is some Coloured drawers
• "Big icons" Theme Launcher with a bunch of Themes to switch between
• Master Control, it has modules/functions you can enable / disable ect.

- AlwaysReboot on Theme change switch
- Language (English,Swedish) Easy to add new one!
- Favourites 0/10/20/30 slots (set your favourite links)
- Accounts User accounts / Login active/deactivated
- Apps 0/10/20/30/40 slots (set your favourite apps)

• Top Bar Info: User
• Theme clock you can set when to switch in Day/Night or BIG Themes
• Create New Theme...
Original Theme, one set of wallpaper, pattern,settings ect.
Day/Night Theme, 2 sets and clock to switch between
BIG Theme, 10 wallpaper & patterns, 1x other settings and clock to switch
New theme is created by simply enter a name and a theme is created from a template.
• Create "Big Theme Icons" for Theme Launcher
• On each Theme you can decide ...
QDockLE, WBDock2, Easter, Bootpic, Audio clip, wallpaper, windows pattern, window border pattern, window border can also be gradient, Visualprefs, PowerWindows, Birdie, Fonts, Workbench, ScreenMode, Palette, IControl, Pointer, MagicMenu, Auto open a drawer, ScreenTime, NewMeter, LimpidClock
• Easy Import/Export Themes (share your Themes)

• Files Iso, lha, zip, rar, lzx, fw, mod, sid, med, dms, sna, z80 is recognised & executed, just click on icon, DMS is converted to ADF output on same path
There is no 'update' version, just install over. Some settings in 32se will be reset, Current Theme, Master Control settings ect.
Requirements:
32se is split to 2 zip files, first one contains files done by others, it's not configured in anyway ! This is the FREE part (32se lite, you need to DL this as well from 32se lite page here on itchio).
For 32se to work, you do need FS-UAE / WIN-UAE / Amiberry with 128MB RAM. 68030 CPU (no FPU required). Also Glowicons, CPU library's, Wallpapers, modules installed from AmigaOS3.2 CDROM
Real Amiga is not official supported by 32se , don't own a real Amiga anymore, also note that there is no network software installed like Roadshow, UAE doesn't need it. Should run on Amiga if requirements are met.
Only specific emulator files is the monitor driver Devs/Monitors/uaegfx + 4 uae... files in C:
Recomended CPU 68040/060 w. FPU & 256MB RAM, RTG 16MB. 1GB HDD, Formatted with Trashcan.
Does not contain AmigaOS3.2.x

iGame(WHDL) does not contain games/Amiga KickROMs
Purchase
In order to download this project you must purchase it at or above the minimum price of $5 USD. You will get access to the following files:
32se_2of2_install.zip v6.70
67 MB
32se_Update.zip v6.70 >> 6.71
426 kB