32se, upgrade For AmigaOS 3.2.x
Reminder, follow 8080 for notifications on updates !
Let's keep Amiga alive and prosper!
Most important is to have fun!
Your payment/tip is a contribution for my Amiga projects ;)
V6.04, 5/6, some small bug fixes & updates !
This is a upgrade for AmigaOS 3.2.x, I think it makes it more useful and fun, I'm trying to avoid apps that doesn't work or prone to crash, more is not always better ;-)
Every function runs by script ARexx, AmigaDOS on demand almost no background tasks added to keep it fast and you have the option to disable most if not all.
DEFAULT PASSWORD: 0000
• In Top Bar menu there are many options added to make life easier, Theme editor opens new menu option to create/edit a theme, when done end theme editor to close menu.
• Amiga Guide instructions, HTML links on installed stuff. On fresh 32se install & first boot a What's new on this version in Amiga Guide pops up.
• Included is some Coloured drawers, Themes and RND content
• Big icon Theme Launcher with a bunch of Themes to switch between
• nDock, system icons dock, many positions including VU where icons are random like a digital VU meter including functions like add/remove icons, option to add LaunchPad to nDock
• Master Control, it has modules/functions you can enable / disable ect.

- AlwaysReboot on Theme change
- HOLD ON (loading window)
- Icon Library
- Language (English,Swedish) Easy to add new one!
- Favourites 0/10/20/30 slots (set your favourite links)
- RND Wallpaper ect
- Notification Checks Ram/HDD/updates
- Accounts User accounts / Login
- Apps, 0/10/20/30/40 slots (set your favourite apps)

• Top Bar Info: User, Theme Day/Night, RND, notification/date
• Theme clock you can set when to switch in Day/Night or BIG Themes
• Create New Theme... new theme (Original / Day/Night / BIG) is created by simply enter a name and a theme is created from a template.
• Create Big Theme Icon for Theme Launcher
• On each Theme you can decide ...
Dock, Icons left/right/ in dock, LaunchPad in dock, Easter, Bootpic, Audio clip, wallpaper, windows pattern, window border pattern, window border can also be gradient, Visualprefs, PowerWindows, Birdie, Fonts, Workbench, ScreenMode, Palette, IControl, Pointer, MagicMenu, Auto open a drawer
• Easy Import/Export Themes (share your Themes)

• Files Iso, lha, zip, rar, lzx, fw, mod, sid, med, dms, sna, z80 is recognised & executed, just click on icon, DMS is converted to ADF output on same path
There is no 'update' version, just install over. Some settings in 32se will be reset, Current Theme, Master Control settings ect.
Requirements:

Real Amiga is not official supported by 32se , don't own a real Amiga anymore, also note that there is no network software installed like Roadshow, UAE doesn't need it. Should run on Amiga if requirements are met.
Only specific emulator files is the monitor driver Devs/Monitors/uaegfx + 4 uae... files in C:
FS-UAE / WIN-UAE / Amiberry. Kick 3.1 , 3.1.4 , 3.2.x ROM, Clean AmigaOS3.2.x install + Glowicons, CPU library's, Wallpapers, modules installed. Minimum cpu setting 68030, FPU is optional not required. Recomended CPU 68040/060 w. FPU & 256MB RAM, RTG 16MB. min 500MB HDD, Formatted with Trashcan.
Does not contain AmigaOS3.2.x

iGame(WHDL) does not contain games/Amiga KickROMs
Purchase
In order to download this project you must purchase it at or above the minimum price of $5 USD. You will get access to the following files:
32se_1of2_install_v6.04.zip
71 MB
32se_2of2_install_v6.04.zip
80 MB
Comments
Log in with itch.io to leave a comment.
got working on mister installed via winuae first though
Cool, what cpu do you have on your pc, I see sysinfo gives drooling high numbers ;)
Latest 4.24 works great with 3.1/3.1.4 rom, thanks. I have some issues related to installing newer Picasso96 and other cards. If i clean up prefs drawer, save snapshot of all windows, reboot, then prefs drawer appears unchanged as before doing clean up and snapshot. Does 32SE or themes change the prefs drawer?
Sorry. Never mind, I'm using a ide to SATA with a SSD on a real Amiga and this has some obscure delay for writing changes to disk, which seems to be the issue
Only some icons are links instead of prefs app in prefs. DockBot was not 100% friendly with OS3.2, switching dock removed a lot of problems, I'm using 4.24 daily and have no issues at all ;)
Wbdock works great. I have been using 32SE V4.24 on my A4000D with ZZ9000 for almost 24 hours now, it runs flawless 👍☺️
68060 50mhz on a Cyberstorm PPC
hi, I have watched the YouTube video. how do I get the install disk images on the desktop of my workbench? I have an Amiga 1200 with Amiga 3.2 os.
I am a newbie :)
I do not have real Amiga anymore, so therefore 32se is officially only for fs-uae, win-uae. amiberry. It's hard for me to help here... unpack both zip files, keep them as they are 2 folders, copy these folders over to Amiga, doesn't matter where you put them (no need to be on desktop), and run 1 & 2 installers after this you better set screenmode because it's overwritten with a RTG resolution, then reboot. And how you get the files to Amiga?, you have the A1200 so you probably have some way todo this?!
Right Installed V.4.2 on a Vanilla 3.2os install...P96 V1.3.2 and Warp DataTypes....Very nice Update....Working well with the Themes....love all the options available....one theme did give me a boot loop...the one with 32sePal in the name...It would be nice to be able to Locate the Demos to another location as i got "disk full" errors....But overall Very nice indeed.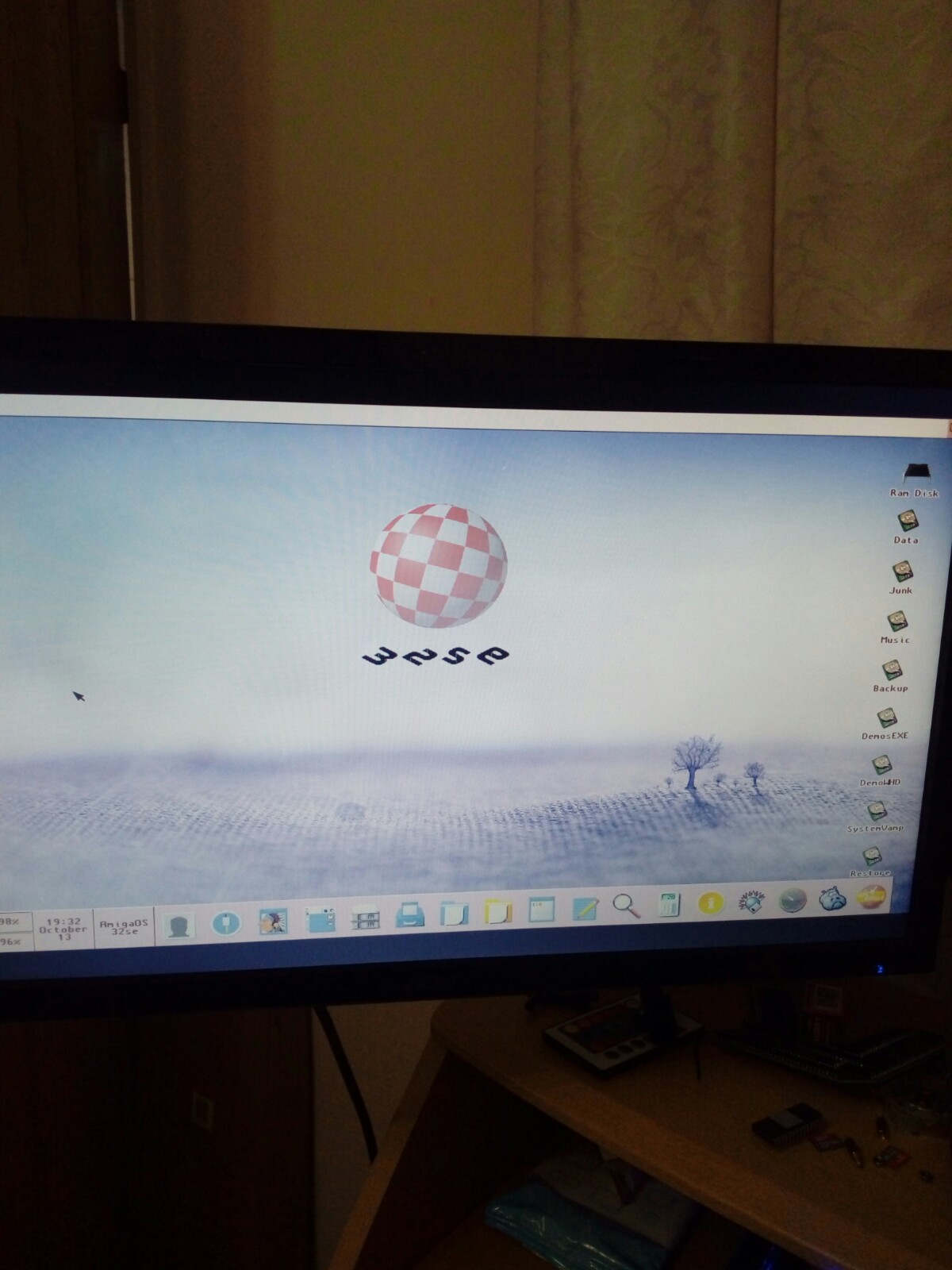 Cool, AmigaOS3.2Pal think you have to just set again screenmode 640x512 and save to theme. You can move all inside Application folder, just edit user-startup for some of the apps has assigns.
Custom PiStorm theme is working well so far....loving 3.2se
Does this purchase cost allow me to download future versions, or just the one listed?

At least v4.0 is included :) I'm pretty sure to do more free updates
I don't wan't to promise too much. I like to overdeliver, give good value. You are first to know that v4.1 is in planning ;)